The Goat King ready for action!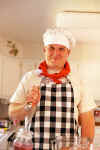 Click on image for full sized picture. High resolution images are available on request.
The guest of honor arrives. Adding Coals to the Pit Bruce keeping a watchful eye on the pig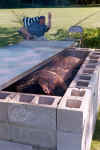 Flipping the pig Still in Control Starting to loose it a bit Successful flip, but middle is sagging
Mark, Gary, Bruce Mary, Bruce, Ellen, Mark The Bodini, Shirley, Ellen, Bruce, Mary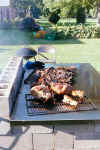 Mark had a 4' x 8' sheet of stainless steel made up, with a two inch lip (corners open for ease of clean up) on three sides. This can be used as a cover, cutting board, warming or serving tray, grill or to slide under the grates, saving the day, when the pig starts to fall.
Crisping skin on the burn down pit. Now where did those tong go? Pig after picking.
Stainless is a breeze to clean. The Goat King having a bit of fun. Goat King's Yard
Room for a few more BBQ Pits? :) Mark's 'Pig Tail Smoker' Pig Tail
A job well done kiss from the Goat Queen
Please email comments or suggestions to GoatSquire@bigtimebbq.com